THE DREAM TEAM
Barbara Ann and Mel, both in their and 80s, say, It took us 80 years to find one another, but it really was worth the wait.
Not long after Barbara Ann joined "Catholic Match", the site matched her with Mel. Reading his profile, she could see that they had so many similar qualities and interests such as their French Canadian lineage, growing up in Massachusetts (Though they never met then, they lived just 40 minutes apart.), both being real-estate agents, both loving the Latin Mass and classical music.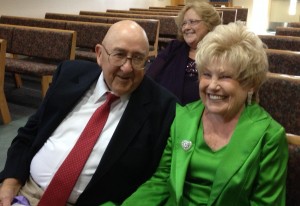 Everything I put in my [profile] he had. The two of them wanted to find love again. Mel's wife had died two years prior and Barbara Ann had been widowed twice. Mel had the same feeling that I had. You can work all day or be involved all day with things, but when you come home and you close that door, you are all alone.
Barbara Ann had one daughter, but Mel never had any children. The only family he had was some cousins who lived in Nova Scotia.
Initially Mel Had Only Been Looking Locally
Barbara Ann thought Mel looked perfect for her, but there was one glitch; he had put in his profile that he was only interested in meeting women who lived nearby. He had a nice home in Ormond Beach, Florida and he didn't want to move. Barbara Ann was living in West Palm Beach, which is over 200 miles away.
Despite Barbara Ann not being a local girl, Mel corresponded with her. We got to like each other through emailing.
Barbara Ann quickly discovered that Mel was very religious and this meant a lot to her. Her first two husbands hadn't been Catholic; and although both marriages had been good marriages, she knew she would never marry again unless it was to a Catholic. I always thought there was a little something missing in my marriages.
Mel Came to Her
When she met Mel in person, she liked him even more. He had a marvelous personality, the most beautiful dimples you've even seen in your life, and a little twinkle in his beautiful blue eyes. He told me that no one had ever told him that he had dimples or beautiful blues and I noticed that right away.
When Mel first saw Barbara Ann he sighed, "Aw…, you're prettier than your picture." He was also very impressed by the number of friends she had. "I was really excited by how well she was liked by everyone. She didn't have to tell me about herself; all of her friends were doing it for her," Mel says.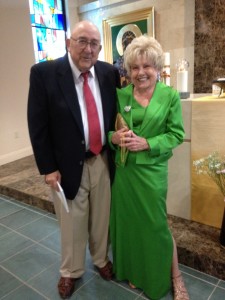 The two dated for four months and then were married on September 10, 2014 in a private Mass in a chapel with only their Priest and two witnesses in an attendance. She wore a long, Kelly green three-piece dress that Mel helped her choose from her closet.
Mel was just so marvelous and so happy at our wedding. When we said are vows, it was extremely touching. I felt at last I had found what I had wanted. Barbara Ann especially feels the bond of their Catholic faith when they go to Mass together. In the middle of the Mass, we always hold each other's hands.
A Good Husband
Although Mel had never wanted to leave his home, his love for Barbara Ann changed things for him. He decided that it would be best for them to live in Barbara's retirement community and to sell his house.
Not long ago, Barbara Ann had to have knee replacement and Mel has been taking care of her. I thank God that he was in the Navy that taught him a lot of things like how to do laundry. My clothes have never looked so good. He's one in a million. He tells me that he is going to send me to the Navy to learn what he knows. He's getting the raw end of the deal here. He's just so perfect, she says.